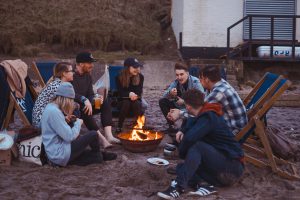 Parents Guide to Successful Camp for Kids
Sending your child to sleepaway camp can be both an exciting and a nerve-wracking experience for you and your child. It's an excellent opportunity though for your child to develop independence and social skills and can play an essential role in your child's growth and development. 
While it's natural to feel homesick, your child can come home with new friends and a greater sense of maturity. To gain the most benefit from camp, preparing them for the experience is vital, which begins with preparation on your part. Yes, there is a lot to do, but it is worth the benefits your child will gain from the experience.
Benefits of Sleepaway Camp
Independence and Confidence: Sleepaway camps provide a unique opportunity for children to gain independence and confidence by spending time away from their parents and learning to independently navigate new social and environmental situations.
Social Skills: At a sleepaway camp, children get to meet and interact with other children from different backgrounds and cultures, helping them develop valuable social skills and broaden their perspectives.
Outdoor Activities: Sleepaway camps often offer a range of outdoor activities such as hiking, swimming, canoeing, and other outdoor sports. Such activities promote physical fitness and allow children to develop a love for nature and the outdoors.
Personal Growth: Sleepaway camps often offer activities encouraging personal growth and self-discovery. These can include team-building exercises, leadership training, and other activities that help children identify their strengths and weaknesses. Some camps train kids to become counselors or serve in different leadership positions.
Lifelong Memories: Sleepaway camp can be an unforgettable experience for children, and the memories and friendships made at camp can last a lifetime. Most children are ready to benefit from an overnight camp at about 8 or 9 years of age.
Reduced Screen Time: Camps often have rules about technology use, which can help children unplug from screens and focus on socializing, physical activity, and being present in the moment.
Managing logistics
Here is a short guide on preparation so they have a great experience at camp.
Involve your child in the planning process. Let your child help choose the camp they'll attend and the activities they want to participate in. If they are younger, going to a center that offers a variety of activities will introduce them to activities that may be new to them. 
Share the decision-making. You're more likely to find a good fit when you involve your kids in the selection process. Split up the workload for researching camps with gymnastic programs or chemistry labs. Sit down together to review websites and brochures.
Check on accreditation. The American Camp Association (

https://www.acacamps.org/

) bases accreditation on strict health, safety, and program quality standards. It's one good way to ensure you leave your child in capable hands. 
Learning about specific camps. If possible, take a trip to see the camp before dropping your child off. Talking with the staff in person may reveal more information than you can obtain from a website or phone call. If a visit is impossible, speak to parents who have experience sending their children to the camps you and your child are considering. 
Questions to ask other parents
  What camp did your child attend, and for how many years did they go?
  What was your child's overall experience like at the center?
  What activities did the camp offer, and did your child enjoy them?
  How were the camp counselors and staff, and did they seem qualified and responsible?
  Was the camp well-organized and safe?
  How was the communication between the camp and parents?
  Did your child make new friends at camp, and were the social dynamics positive?
  How did the camp handle homesickness or other issues that arose?
  Was the camp's food and accommodations satisfactory?
  Would you recommend this camp to other parents, and why or why not?
Asking these questions can help parents better understand what a specific sleepaway camp is like and whether it may be a good fit for their child.
Plan for the costs. With such a wide variety of camps available, you can look for something within your budget. For example, overnight camps typically charge $900 or more a week.
Pack appropriately & together. Pack with your child and ensure they have everything they need for camp. Think about clothing, toiletries, bedding, and any special items they want to bring. Your camp will send you a list of what to pack. Leave yourself enough time to label each item to prevent them from getting lost. While you're at it, break in any new footwear.
See your doctor. Let your family doctor know that your child is heading to camp. Kids may need to complete a physical or make arrangements for taking prescription medications.
Preparing your child socially and emotionally
Talk about the camp experience. Start by talking to your child about what to expect at camp. Explain the daily routine, the types of activities they'll be doing, and how long they'll be away from home. Ensure your child understands that it's normal to feel homesick but that they'll be able to cope and have fun.
Practice separation. If your child has yet to spend much time away from you, practicing separation before camp is essential. Start by leaving them with a trusted friend or family member for a few hours, then gradually increase the time apart. Doing so will help your child feel more comfortable with the idea of being away from home. Grandparents would probably enjoy a weekend visit, and it is an excellent place to start with young campers.
Role play. Help your child feel more comfortable by acting out situations they're likely to encounter at camp. For example, practice finding your way around the backyard at night with a flashlight. Practice sharing a care package with other campers.
Discuss camp rules and expectations. Make sure your child understands the rules and expectations of the camp. Things like curfews, meal times, and activity schedules at most campsites will be non-negotiables. Discuss any concerns or questions they may have, and encourage them to ask their counselors for help if they need it. 
Agree on communications. Based on camp rules, let your child know they can always communicate with you by writing letters, sending emails, or talking on the phone at camp. Ensure they have the necessary contact information for you and any other emergency contacts. Most programs may limit the timing and number of phone calls or packages. It's easier for your child to adapt if they know what to expect.
Encourage independence. Encourage your child to be independent while at camp. This includes making their bed, managing their hygiene, and deciding on activities. Taking charge of their responsibilities will help them build confidence and feel more prepared for the future.
Coming Home
When a child returns home from a sleepaway camp, it can be an exciting and emotional time for both the child and parents. Here are some tips on how parents can welcome their child home in a way that is supportive and allows them to share their experience:
Show excitement: Show your child how happy you are to see them by greeting them with a big hug or smile. Make them feel welcome, and let them know that you missed them.
Give them space: While showing excitement is important, giving your child space to adjust to being home is essential. Don't overwhelm them with too many questions or demands right away.
Ask open-ended questions: When your child is ready to talk, ask open-ended questions, encouraging them to share their experience. For example, "What was your favorite part of camp?" or "What was the most challenging thing you faced at camp?"
Listen actively: Listen to your child's answers without interrupting or judging. Encourage them to share as much or as little as they want, and be supportive and empathetic.
Plan a fun activity: Plan a fun activity or outing that your child will enjoy, such as going to the park or watching a movie together. Family activities can help your child feel more relaxed and comfortable.
Be patient: Remember that it may take some time for your child to fully adjust to being home and process their camp experience. Be patient and continue to show support and understanding.
Preparing your child for sleepaway camp takes time and effort, but it's worth it for the experiences and memories they'll gain. Following these tips will help ensure that your child has a fun and successful time at camp.