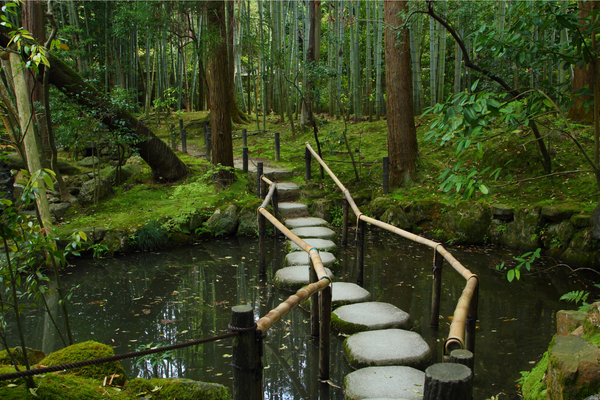 Parenting is one of the most rewarding and challenging journeys in life. It's a journey filled with love, laughter, and growth that comes with trials and tribulations. To navigate this path successfully, it's crucial to build a strong foundation, and that's where the Parenting Pyramid comes into play. This pyramid comprises three essential components: self-care, nurturing relationships, and parenting. Let's explore these pillars, understanding how they contribute to creating successful families.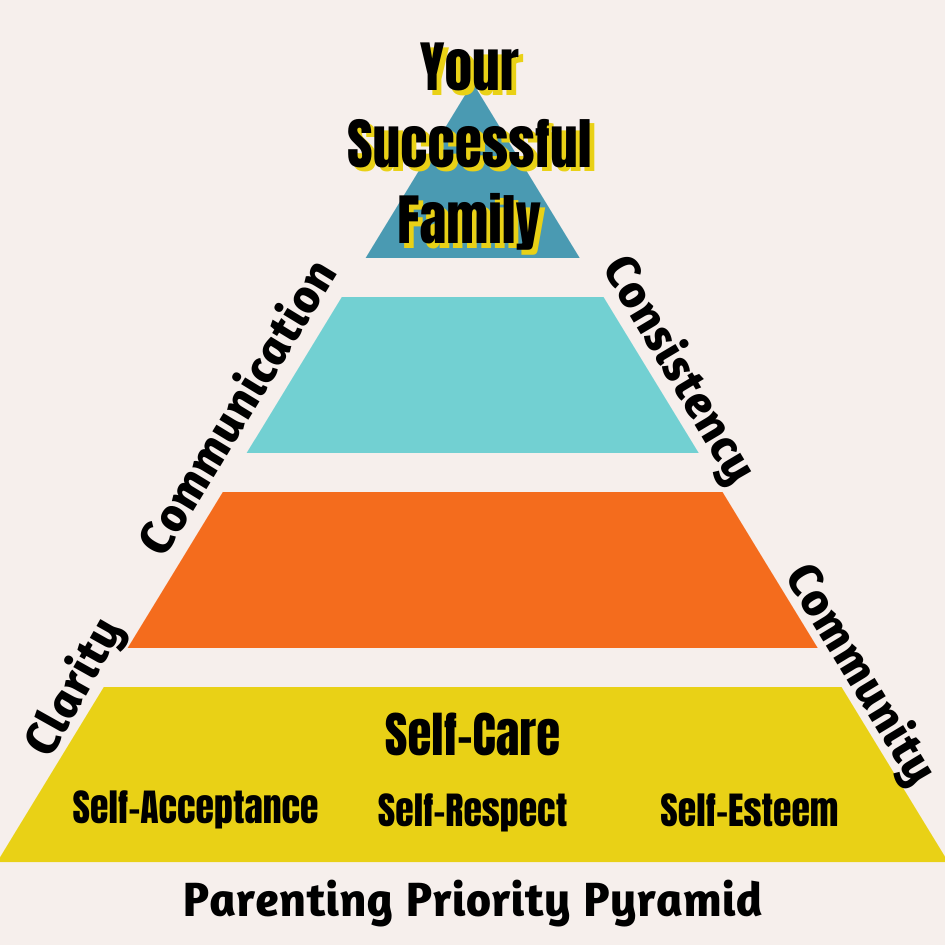 Self-Care: The Base of the Pyramid
At the base of the Parenting Pyramid lies self-care, a fundamental but often overlooked aspect of parenting. It's easy for parents to get caught up in the daily demands of raising children and forget to take care of themselves. However, self-care is not a selfish act; it's a necessity.
Self-care involves prioritizing your physical, emotional, and mental well-being. It means setting aside time for activities that rejuvenate your spirit, whether reading a book, practicing yoga, taking a long bath, or simply enjoying a quiet cup of tea. When parents care for themselves, they become better equipped to handle parenting challenges.
 Think of self-care as the pyramid's foundation, providing stability and strength to support the weight of the responsibilities above it. When parents are well-rested and emotionally balanced, they are more patient, compassionate, and resilient in the face of parenting challenges.
Encouragement: Remember, taking care of yourself is not a luxury; it's a necessity for you and your family. Prioritize self-care to ensure you have the energy and emotional resources needed to be the best parent you can be.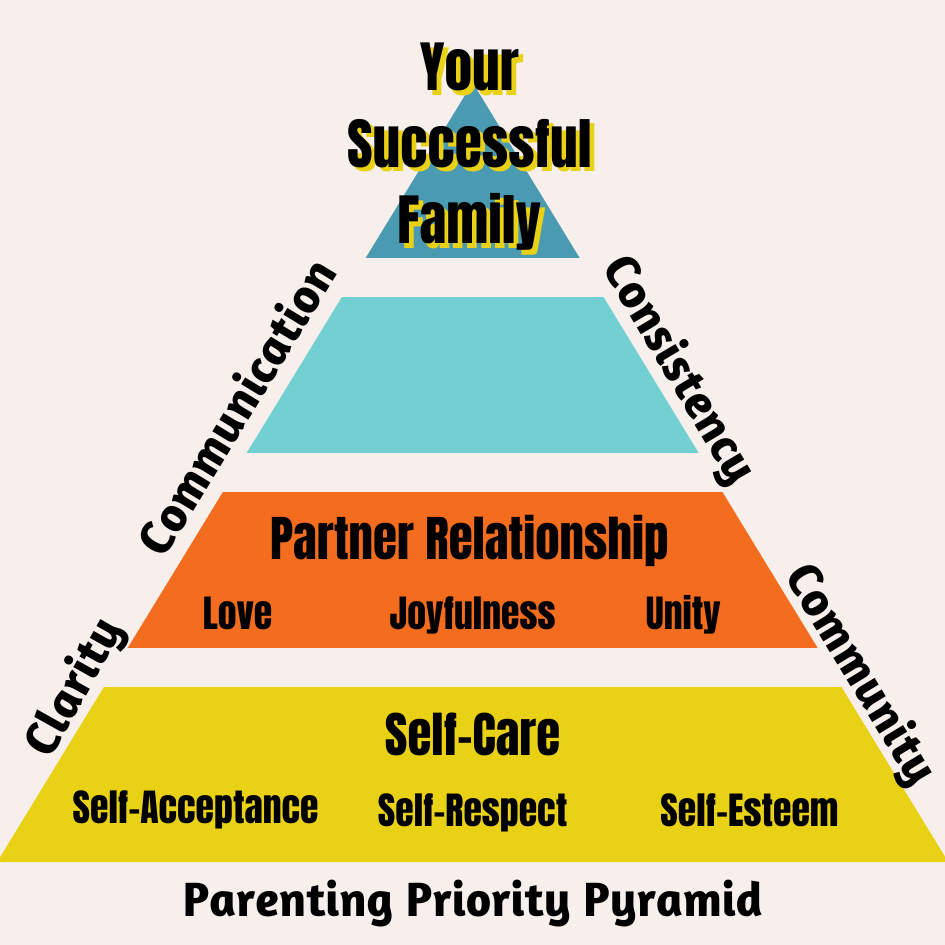 Nurturing Relationships: The Heart of the Pyramid
As we ascend the Parenting Pyramid, we arrive at the heart of what truly sustains successful family life—nurturing relationships. While all family bonds contribute significantly to a thriving home environment, the partnership between you and your spouse or partner has the most substantial impact.
The foundation of nurturing relationships is built on the bond between you and your partner. This relationship serves as a cornerstone, setting a profound example for your children and laying a secure foundation for your family. It is here, in the partnership, that the real magic happens.
 Open and honest communication forms the lifeblood of this partnership. Sharing your thoughts, fears, dreams, and aspirations with one another creates a supportive ecosystem in which both partners can flourish. In its purest form, respect should be the guiding light, allowing each person to be their authentic self while honoring the other's individuality.
Collaboration is the bridge that connects your partnership with a more excellent family dynamic. Working together as a unified team, you'll find strength in navigating the challenges and joys of parenting. A strong partnership can help you make tough decisions and ensure that your parenting strategies align, providing a consistent and loving environment for your children.
However, nurturing relationships extend beyond your partner. Equally significant is the bond you cultivate with your children. Dedicate time to engage them in meaningful conversations, create a nurturing space where they feel heard and cherished, and shower them with affection. When children feel loved, valued, and understood, they are better equipped to thrive emotionally and socially.
As you build these strong family connections, remember the importance of references beyond your immediate household. Encourage your children to develop friendships and engage in activities that allow them to interact with peers. Building a support network within your community can offer valuable insights and shared experiences.
Encouragement: Recognize the pivotal role that your partnership plays in the grand tapestry of family life. By nurturing your relationship with love, respect, and unwavering communication, you're enriching your own lives and creating a solid foundation upon which your family can flourish. Remember, you can shape a loving and harmonious home environment where every member finds a sense of belonging and security.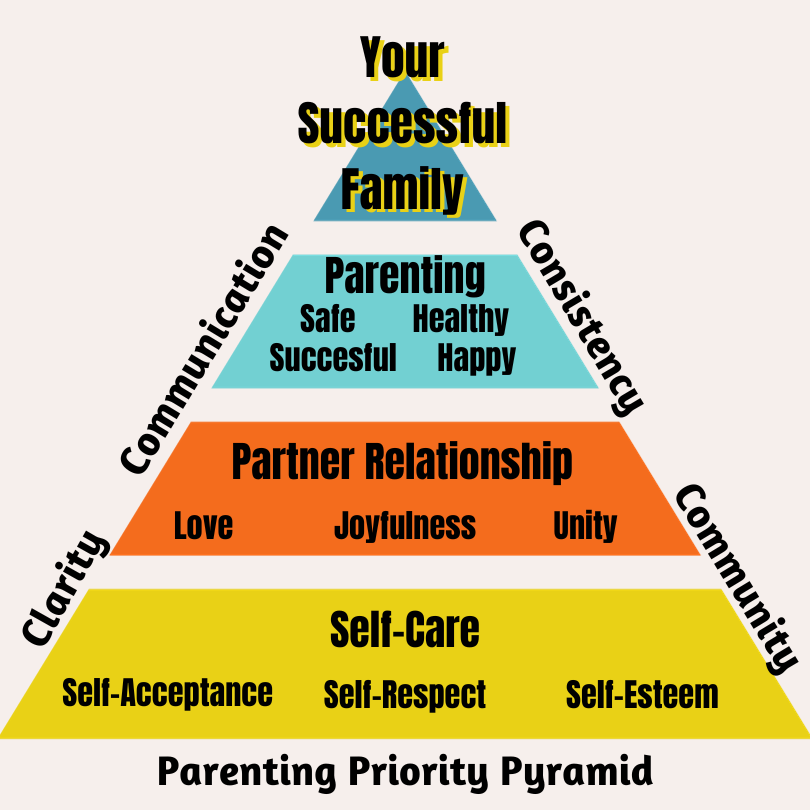 Parenting: The Apex of the Pyramid
At the top of the Parenting Pyramid stands the act of parenting itself. This is where all your self-care and relationship-building efforts culminate in shaping your family's future. Parenting involves setting boundaries, providing guidance, and instilling values and life skills in your children.
Effective parenting requires balance and adaptability. It's about finding the middle ground between being a loving, nurturing presence and setting clear expectations and consequences. Be a role model for your children, showing them the values and behaviors you want them to emulate.
 It's also essential to recognize that parenting is an ongoing learning process. Seek advice when needed, stay informed about child development, and be open to adjusting your parenting style as your children grow and change.
Encouragement: Parenting is a journey filled with ups and downs, but remember that you can positively influence your children's lives. Stay patient, be present, and cherish the moments of growth and discovery that parenting brings.
The Parenting Pyramid is a roadmap for building a solid foundation for successful families. Self-care, nurturing relationships, and effective parenting are the three essential pillars supporting parenthood. Remember, it's not about achieving perfection but striving for balance and growth in these areas.
As parents, you have the power to create a loving and supportive environment in which your children can thrive. By prioritizing self-care, nurturing relationships, and embracing parenting responsibilities, you are well on your way to building a strong and successful family that will weather life's challenges with resilience and love.
I invite you to sign up for our newsletter. It is a great way to get the Virtue of the Month and tips on relationships, parenting, and self-care. In addition, you'll be the first to know about upcoming classes for successful families.
To sign up, visit the "Newsletter" section here on the website. Enter your email address, and you'll receive our newsletter in your inbox on Wednesdays.  I appreciate your interest in bringing out the best in your children and yourself. We look forward to keeping you informed through our newsletter!