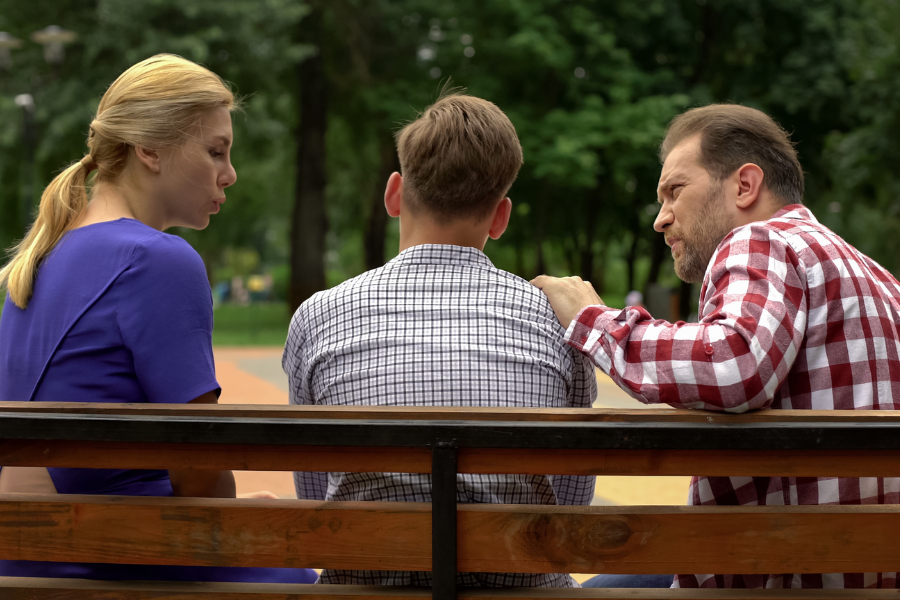 Parents, guardians, and all those navigating the often tumultuous waters of raising teenagers, welcome! If you've found your way here, it's likely because you've encountered the age-old mystery of why your once-chatty, open-hearted teen has suddenly transformed into a cryptic, monosyllabic enigma. Fear not; you're not alone! In this blog post, we will delve into the five reasons your teen isn't sharing their feelings with you anymore. And as promised, we'll offer you some insightful suggestions to rebuild those bridges of communication.
Fear of Judgment
Picture this: Your teenager arrives home after a seemingly ordinary day at school, their shoulders slumped and a solemn expression on their face. You inquire about their day, and they respond with an unenthusiastic "fine." Sound familiar? Well, the first reason your teen might be tight-lipped is the fear of judgment. Teens often hesitate to open up about their thoughts and emotions because they fear being misunderstood or criticized.
Suggestion: Create a judgment-free zone by actively listening without interruption or judgment. Let them know that you're there to understand, not to criticize or lecture.
Peer Pressure and Identity Crisis
Teenagers are like chameleons, constantly changing to fit in with their peers. This natural desire to belong can sometimes lead them to conceal their true feelings, especially if they fear that sharing those feelings might result in ridicule from their friends.
Suggestion: Encourage them to embrace their authentic selves and reinforce the importance of authenticity. Let them know it's okay to be different and that you accept and love them just as they are.
Privacy Invasion
Have you ever tried to enter your teenager's room without knocking? If so, you may have unwittingly contributed to the communication breakdown. Teens cherish their privacy, and a perceived invasion of that privacy can make them hesitant to share.
Suggestion: Respect their space and boundaries. Knock before entering their room and ask for permission to access their personal belongings.
Technology as a Distraction
The digital age has provided teens with many screens and devices, creating an alternative world that sometimes takes precedence over real-life conversations. The allure of social media, online gaming, and texting can distract them from engaging with you.
Suggestion: Set aside tech-free times for the family to bond, like dinner, game nights, or weekend outings. This will encourage open communication without the interference of screens.
Stress and Overwhelm
Teenagers face a multitude of challenges, from academic pressures to social issues. Sometimes, they keep their feelings bottled up because they're afraid to burden you with their problems.
Suggestion: Let them know that you're there to support them, no matter what. Create an atmosphere where they feel safe discussing their concerns and offering guidance when needed.
Now that we've identified the reasons behind the communication gap let's bridge it with some other suggestions: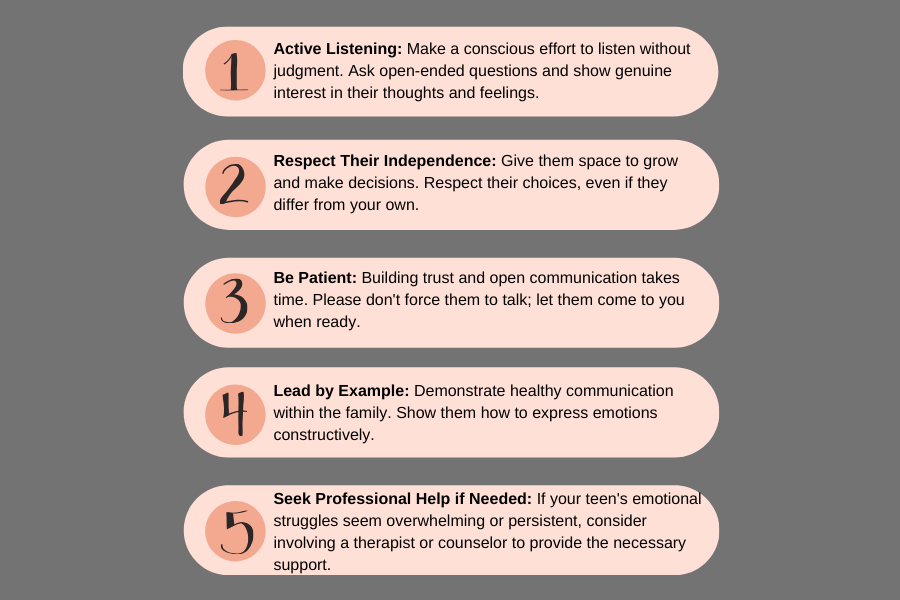 Respect, Patience, and Detachment: The Key Virtues to Unlocking Communication with Your Teen
In the grand symphony of parenting, where the melodies of love and understanding play a pivotal role, three virtues stand out as the conductor's baton, guiding us toward harmonious communication with our teenagers: Respect, Patience, and Detachment.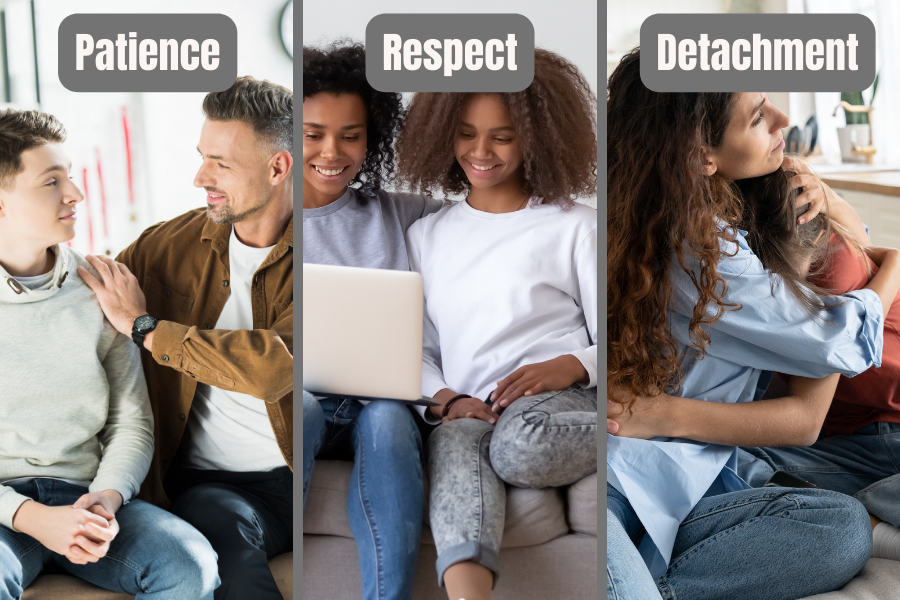 Respect: It's the cornerstone of any healthy relationship, and its significance cannot be overstated. Respect their thoughts, opinions, and feelings, even when they differ from your own. By acknowledging their individuality and valuing their perspective, you lay the foundation for trust and open dialogue.
Patience: In a world where instant gratification often takes center stage, patience becomes a precious commodity. Building a strong, communicative relationship with your teen may take time. Be patient in waiting for them to share, in allowing them space to grow, and in letting them navigate their own path.
Detachment: This virtue, often misunderstood, is the art of being present without being overbearing. It's the ability to listen without needing to solve their issues. You can ask them, "What do you need right now: a listening ear, a brainstorming session, or suggestions or advice?" By offering them choices and respecting their preferences, you empower them to take charge of their emotions and decisions.
Incorporating these virtues into your parenting journey can help bridge the communication gap with your teenager. So, embrace respect, nurture patience, and practice detachment. Remember, your role isn't just to guide them but to be their unwavering support as they navigate the complex tapestry of adolescence. As you master these virtues, you'll find that the bonds of trust and understanding between you and your teen will grow stronger, creating a harmonious connection that will last a lifetime.
In conclusion, remember that navigating the teenage years can be challenging. Still, it's also a time of growth and self-discovery. By fostering open communication, respect, and understanding, you can help your teenager navigate this tumultuous journey with confidence. So, take a deep breath, embrace the uniqueness of your teen, and keep those lines of communication wide open. You've got this!
I invite you to sign up for our newsletter. It is a great way to get the Virtue of the Month and tips on relationships, parenting, and self-care. In addition, you'll be the first to know about upcoming classes for successful families.
To sign up, visit the "Newsletter" section here on the website. Enter your email address, and you'll receive our newsletter in your inbox on Wednesdays.  I appreciate your interest in bringing out the best in your children and yourself. We look forward to keeping you informed through our newsletter!