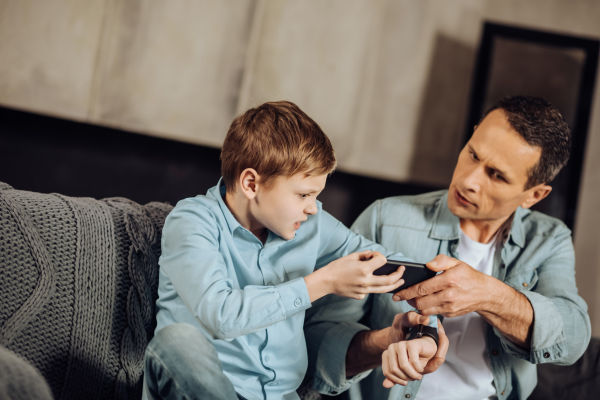 As you embark on establishing screen time rules for your family, it's essential to reflect on the virtues and values underpinning these rules. Doing so transforms these rules from arbitrary restrictions into meaningful expressions of your family's core principles. Let's explore some examples to help you identify the virtues and values that guide your screen time guidelines:
Family Time and Togetherness: Consider the rule of not having phones at the table during family meals. This rule reflects the value of "family time" and demonstrates "respect" for one another. By asking yourself, "Why is family time important to us?" you can pinpoint the value of togetherness and the virtue of respect as the foundation for this rule.
Responsibility and Balance: Suppose you limit screen time to a certain number of hours each day. In that case, you may emphasize the virtues of "responsibility" and "moderation." You can ask, "Why do we want our child to have moderate screen time?" The answer likely lies in the belief that balance fosters responsible and healthy habits.
Creativity and Exploration: Encouraging your child to engage in creative and exploratory activities outside of screens may be rooted in valuing "creativity" and "curiosity." Consider asking, "How do we nurture our child's creativity and curiosity?" This will reveal the virtues that support this rule.
Respect for Sleep and Well-being: Setting a screen curfew to ensure your child gets adequate sleep may align with the virtues of "health" and "well-being." Ask yourself, "Why is sleep important for our child?" You'll find that respect for their physical and mental health is at the heart of this rule.
Connection and Communication: Limiting screen time during family bonding moments may reflect the values of "connection" and "communication." When you ask, "Why do we prioritize quality time without screens?" you'll uncover these virtues as the driving force behind this rule.
Academic Excellence: If you have restrictions on screen time during study hours, it likely stems from the virtue of "academic excellence." To clarify, ask, "How does limiting screen time support our child's educational goals?" This will reveal the value behind the rule.
Outdoor Exploration and Physical Activity: Encouraging outdoor play and physical activities instead of screen time may be linked to the virtues of "health" and "adventure." Pose the question, "Why do we want our child to spend more time outdoors?" This will highlight the values you hold dear.
By identifying the virtues and values that underlie your screen time rules, you provide a rationale for these guidelines and make them more meaningful and purposeful. These values become the compass that guides your family's choices and behaviors, ensuring that your rules are not arbitrary but are grounded in the principles you hold dear.
So, as you embark on this journey, take a moment to reflect on your family's values and virtues. What do you believe in? What do you want to instill in your child? How do your screen time rules align with these beliefs? By answering these questions, you'll establish practical screen time guidelines and foster a deeper connection with your family's core values, making your parenting journey all the more meaningful and impactful.
In today's digital age, parents face a constant challenge: how to calm their kids without resorting to screen time. While screens can be a quick fix, relying on them too often can harm your child's development. 
In fact, playing games and watching videos can backfire. Some studies have found excessive screen time contributes to behavior issues, including hyperactivity, impulsiveness, and difficulty paying attention. Only parents can determine what is extreme in their household.
To navigate this modern parenting dilemma, we'll explore the Four C's of Successful Families—Clarity, Communication, Consistency, and Community—and how they can help you effectively manage your child's screen time and tantrums.
A Parent's Guide to Calming Your Kids Without a Screen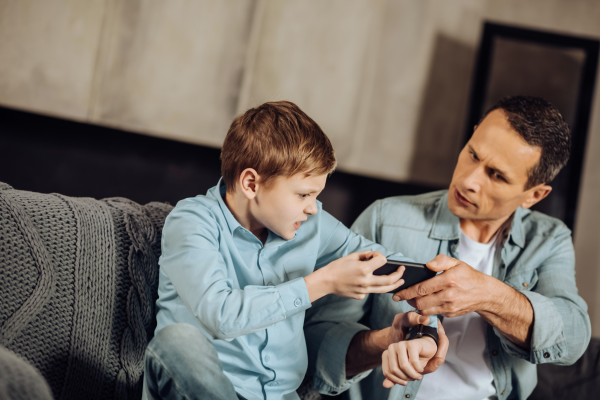 Get a copy of this article that was published to those who receive our newsletter each week.
I invite you to sign up for our newsletter. It is a great way to get the Virtue of the Month and tips on relationships, parenting, and self-care. In addition, you'll be the first to know about upcoming classes for successful families.
To sign up, visit the "Newsletter" section here on the website. Enter your email address, and you'll receive our newsletter in your inbox on Wednesdays.  I appreciate your interest in bringing out the best in your children and yourself. We look forward to keeping you informed through our newsletter!