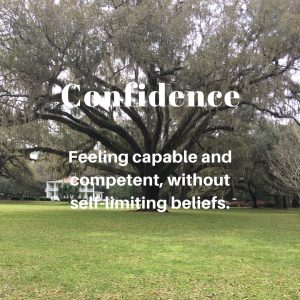 Description
Confidence is having faith in ourselves and in life. We feel capable and competent. We trust that we have the strength to cope with whatever happens. Confidence helps us to be free of worry. When we are confident in others, we believe in them and rely on them. We build self-confidence as we learn from our mistakes and improve for the better. Confidence brings the strength to try new things, to gain mastery through practice. With confidence, we cast off self-limiting beliefs and doubts. We offer our gifts as a worthy contribution. When opportunity comes, we step up to it. We just say "yes".
In Family Life
Confidence within a family is embodied by self-assuredness and belief in one another's abilities and worth. It is demonstrated through open communication, where family members feel comfortable expressing their thoughts, ideas, and concerns without fear of judgment. Confident families encourage members to pursue their passions and take on challenges, fostering an environment where individual strengths are celebrated and nurtured.
In such families, members support each other's endeavors with unwavering belief, providing reassurance in times of uncertainty and celebrating achievements with genuine pride. This virtue also manifests as resilience, allowing the family to navigate setbacks and conflicts with the understanding that their bond and shared values will guide them through any adversity.
Quote
"Do not, therefore, throw away your confidence, for it carries a great reward."
— Hebrews 10:35
 The Practice of Confidence
I have the strength to face what life brings me.
I act with self-assurance.
I treat others as trustworthy.
I bless my mistakes and learn from them.
I patiently practice until I master something.
I fully express my talents and ideas.
I maintain a positive attitude.