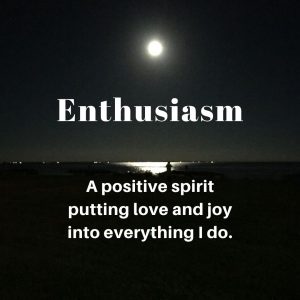 Description
Enthusiasm is being filled with spirit. It means "God within". When we live with enthusiasm, we are excited about life and are open to the wonders each day holds. We do things wholeheartedly, with zeal and eagerness, holding nothing back. We allow the excitement of the moment to fill us. We enjoy good humor. We live in the moment and appreciate what we have, finding joy in simple pleasures. We are cheerful and optimistic about what is to come. Enthusiasm helps us to imagine what is possible. We follow our dreams with true joy.
In Family Life
The virtue of enthusiasm in a family is exemplified through an atmosphere of genuine excitement, support, and energy that permeates daily interactions. It is demonstrated by family members actively engaging in each other's passions and interests, whether cheering on a child's soccer game, participating in a parent's hobby, or celebrating a sibling's achievements.
Enthusiasm within the family means being genuinely interested and invested in each other's lives, encouraging one another to pursue dreams and goals, and fostering an environment where everyone feels empowered to explore their talents and interests. This virtue brings forth a sense of shared joy, nurturing strong bonds, and a sense of togetherness that can weather any challenge.
Quote
"And whatsover you do, do it heartily. "
— Colossians 3:23
 The Practice of Enthusiasm
I am excited about my life.
I do things wholeheartedly.
I am inspired by simple things.
I put love and joy into what I do.
I smile, laugh, and have a good sense of humor.
I have a positive spirit.